revitalize EGF serum
revitalize EGF serum
(5 out of 5)
This a leading edge, anti-aging serum delivers visible, dramatic improvements to your skin, utilizing the Nobel Prize-winning discovery of Epidermal Growth Factor (EGF) to stimulate skin to renew itself. Using synthetic EGF, this potent age-defying treatment revitalizes skin as it improves the appearance of fine lines, wrinkles, photo-aging, skin tone and texture, maximizing radiance and restoring youthful-looking skin.
The revitalize EGF serum has been paired with a derma roller to maximize effectiveness.
Why Use a Derma Roller?
The derma roller creates tiny, invisible microchannels in the top layer of the skin. This stimulates the body's natural healing processes, resulting in cell turnover and increased collagen and elastin production. These microchannels allow ingredients to penetrate better and work more effectively.
Good for all skin types.
NEW RETAIL PRICE! NOW ONLY $150 - WAS $225!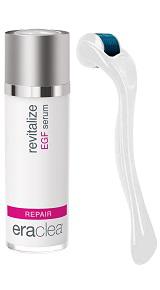 You'll never run out of your favorite products. You can choose this option during checkout.
More Information
Product Details
Benefits:
Works to rejuvenate skin and prevent premature aging
Stimulates cell proliferation, allowing the skin to repair itself evenly and quickly
Promotes collagen production to help tighten and lift the skin
Helps minimize the appearance of fine and deep wrinkles
Improves the appearance of scars
Helps reverse sun damage and hyperpigmentation
---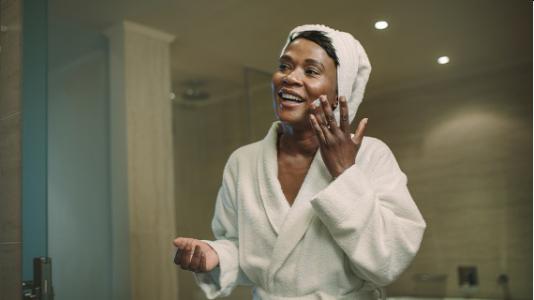 How to Use
Apply revitalize EGF serum to a clean face daily either in the morning or evening. Use with the derma roller 3-7 times per week.
Application with derma roller: Apply the serum to a clean face. Next, gently roll the derma roller back and forth 3-4 times in each direction - horizontally, vertically and diagonally.
Roll over each side of face, chin, forehead and neck. Total rolling time should be no more than one minute.
Then apply the revitalize EGF serum again, this time without rolling.
Derma roller: Avoid sensitive area around the eyes. Not to be used on irritated or infected skin. Keep out of reach of children.
---
Ingredients
Aqua, Beta glucan, Hyaluronic acid, Sh-Oligopeptide-1, Benzyl alcohol, Dehydroacetic acid.
Key Ingredients:
sH-Oligopeptide-1 - Synthetic human Epidermal Growth Factor, shown to increase the rate of healing and renewal of the skin; slows the thinning of aging skin, thus minimizing wrinkles. It plays a crucial role in the healing and regeneration processes.
Beta-glucan - Serves as a 'protect and repair' molecule as it increases natural, self-protecting capabilities of the skin and accelerates skin recovery, helping reduce redness and irritation.
HylaFusion® - Provides unusually long-lasting hydration and more effectively delivers key ingredients to the skin's deeper layers.
Recommended Products
---
Customer Reviews
Overall Rating: (5 out of 5)

2 of 2 (100%) customers would recommend this to a friend
Write A Review
Rating: (5 out of 5)
I would straight bathe in this stuff if I could!
Posted June 11, 2021 by Abigail McCommas from ,
I love results the next day. It looks refreshed in a way that's hard to get without multiple masks, products or make up. I've been overzealous with the dermaroller, not enough to complain- just fair warning ;) even then irritation is mild and goes away before waking. I would straight bathe in this stuff if I could <3
1 out of 1 people found this review helpful.
Was this review helpful to you?
Rating: (5 out of 5)
THIS IS A GAME CHANGER!
Posted May 05, 2020 by Lori Klaus from ,
This stuff is like the fountain of youth! I have never seen visible results so quickly. My brown spots which I have had for years around my hair line started to lighten and disappear within a couple of weeks. It also makes you skin feel very firm and smooth. The roller bar is easy to use and you can feel the product being absorbed into you skin.
0 out of 0 people found this review helpful.
Was this review helpful to you?
Sign up for our newsletter
Be the first to receive news and special offers