reveal advanced brightening cream
reveal advanced brightening cream
(5 out of 5)
reveal advanced brightening cream with Drone Technology uses dual encapsulated super-peptides. This revolutionary system targets specific cells and releases active ingredients directly where they are needed most, quickly producing outstanding results.
Skin imperfections affect women of all ages, including uneven skin tone and discoloration, much of which is the result of sun exposure. Formulated to address these concerns, reveal advanced skin brightening cream is a topical treatment that is formulated with proven brightening ingredients that work to reverse, repair and prevent future damage at the cellular level, revealing a younger smoother looking complexion. Suitable for all skin types.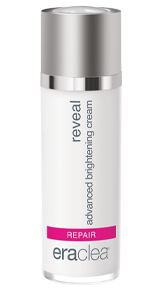 You'll never run out of your favorite products. You can choose this option during checkout.
More Information
Product Details
Formulated with Drone Technology with dual encapsulated super-peptides, which targets specific cells and releases active ingredients directly where they are needed most.
Helps brighten and even out skin tone.
Repairs and prevents future damage at the cellular level.
Helps diminish the appearance of hyperpigmentation, discoloration and age spots.
Refine pores, improves skin elasticity and resilience Contains HylaFusion®, a clinically proven breakthrough hyaluronic acid complex, which leaves skin feeling fresh, smooth and hydrated with no greasy residue.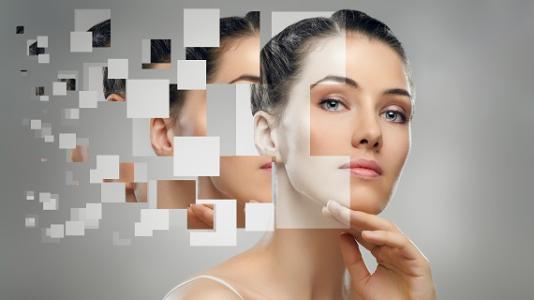 ---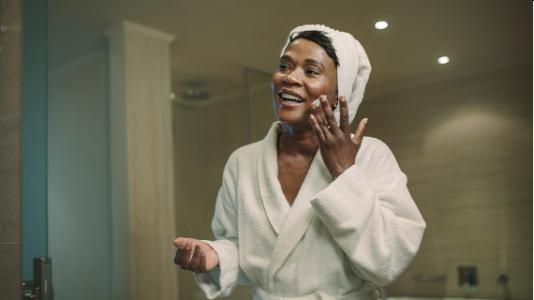 How to Use
Can be used morning and evening. After cleansing, apply 4-5 drops to a dry face, neck and chest.
---
Ingredients
Ingredients:
Water/Aqua, Organic aloe barbadensis leaf juice, Bellis perennis (daisy) flower extract, Niacinamide, Lactic acid, Caprylic/capric triglyceride, Butylene glycol dicaprylate/dicaprate, Glycerin, Dimethicone,3-o-ethyl ascorbic acid, Glyceryl stearate, Peg-100 stearate, Cetearyl alcohol, Squalane, Sodium hyaluronate, Palmitoyl sh-tripeptide-5 norisoleucyl sh-nonapeptide-1, Methyl undecylenoyl dipeptide-16, Palmitoyl sh-octapeptide-24 amide, Polyacrylamide, Ceteareth-20, Glyceryl stearate citrate, Hexylresorcinol, C 13-14 isoparaffin, Polysorbate 60, Laureth-7, Polyvinyl alcohol, Polysorbate 20, Retinol, Benzylidene dimethoxydimethylindanone, Kojic acid, Hyaluronic acid, Glycyrrhiza glabra (licorice) root extract, Rosa canina (rosehip) seed oil, Tocopherol, Allyl methacrylates crosspolymer, Lactic acid/glycolic acid copolymer, Hydroxyethyl acrylate/sodium acryloyldimethyl taurate copolymer, Xanthan gum, Carbomer, Disodium EDTA, Sorbic acid, Caprylyl glycol, Phenoxyethanol, Ethylhexylglycerin, Sodium hydroxide.
Key Ingredients
Nicinamide PC – works to help rebalance pigmentation, refine pores, improves skin elasticity and resilience.

Synovea® HR is a safe and effective hexylresorcinol that is used as a skin lightener with skin protective properties. Hexylresorcinol is clinically proven to be four-times more effective than Hydroquinone.

Licorice Extract – used for its antioxidant and lightening properties.

Kojic Acid is used as a skin toner and lightener. By inhibiting melanin production, it effectively helps to balance skin tones, fading dark spots and freckles caused by sun exposure, aging, and cutaneous hyperpigmentation.

X50 Pure White (drone technology) - Lactic, Glycolic Acid Copolymer & Palmitoyl, SHIctaoeotude-24 Amide & Tripeptide-5 & Noeinaolwuxyl, SH-NONAPEPTIDE-1 – Target Specific Melanocytes - to whiten and lighten dark spots.

Hylafusion® is composed of the patented, proprietary HylaSponges® and two other forms of hyaluronic acid molecules in carefully formulated ratios. The breakthrough HylaSponges® can hold 100 times their weight in water. This unique hyaluronic acid complex provides unusually long lasting and more penetrating hydration, which increases the effectiveness of the delivery of biologically active molecules, such as vitamin C, to the skin.
Recommended Products
---
Customer Reviews
Overall Rating: (5 out of 5)

1 of 1 (100%) customers would recommend this to a friend
Write A Review
Rating: (5 out of 5)
Brightening Cream
Posted November 24, 2018 by Catherine Kane from ,
I purchased this product several months ago and have been using it once a day.
All of the age spots on my face are fading out. I can still see some of the darker / larger ones but the smaller/lighter ones are invisible.
This is the first product I have purchased that I can say is actually making a difference.
I'm using several of the Eraclea products and find them all good.
1 out of 1 people found this review helpful.
Was this review helpful to you?
Sign up for our newsletter
Be the first to receive news and special offers